We make feed for everyone on your farm!
STOP IN, YOU'LL BE SURPRISED!
Welcome to Pierce Milling Inc.
If you're not familiar with Pierce Milling, Inc. we invite you to stop in and take a look around, you'll be surprised! From feeding the birds to the care and feeding of all of your animals, we have everything you need. All of our feeds are made here, fresh for your animals. We are quite proud of our feed mixes, which are nutritionally balanced to meet your animal's specific requirements. We strive to keep our prices low, service friendly and personnel helpful.  Go to our Facebook page to check out new items & specials.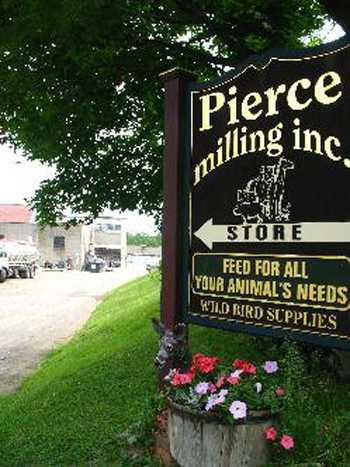 GARDEN SEEDS ARE GOING QUICK
We carry pre-packaged seeds plus bulk Beans, Peas, Sweet Corn, Seed Potatoes, Sunflower Seeds, Wildflower Seeds & Onion Sets.   
New!  We have a huge selection of gift & decorative items arriving daily.  A gift store right here in Delevan!  
Get your feeders out, the Orioles and Hummingbirds are here!
Fred, the store's official greeter can't wait to meet you, so stop in and say Hi!
Deer Crazy????????? So are we- stop in!! We have a huge selection of pre-packaged and bulk FOOD PLOT SEEDS.  E-mail or call us and we can e-mail you our current Food Plot Price Sheets.
BUSINESS HOURS:
Monday – Friday: 8am – 5pm
Saturday: 8am – 12:00pm sharp!
Sunday: Closed
Great feed at great prices for all of your Dairy, Beef, Calf, Sheep, Goat, Poulty, Swine, Equine, & Rabbits  
We have a fun little store jammed packed with great new gift & decorator items arriving daily and a huge selection of Woodstock & other Windchimes.  Make us your bird feeding head quarters, we have everything you need!  We also have a Dog & Cat department, large selection of Melissa & Doug toys and carry a great selection of Muck Boots for all feet!
For the farm we carry a full line of Food Plot and Farm Seeds, Fertilizer, Bagged Limes, Gates, Round Bale Feeders, Stock Tanks, High Tensile Wire, Barbed Wire, Fencers, Shovels, Forks and so much more
If you have horses, we are well stocked with everything you need. Wormers, supplements, grooming aids & tools, buckets, pails, hay feeders & nets.
EVERYDAY LOW PRICE ON WHITE PINE SHAVINGS…  3.2 cu ft. $6.60 each, or purchase 6 or more and save… only $6.10 each.